Carin is an Arizona native and fully understands the complexities and changing landscape of the Arizona market. She has been in the real estate industry for over 10 years full time with previous experience in the finance and mortgage industries. She owns the real estate brokerage, RealAZtate (pronounced Real Estate) with offices in Goodyear and Scottsdale and is also the Team Lead for The Carin Nguyen Team who sold 896 homes in their best year. She is a co-author with Brian Tracy of the best-selling book, Change Agents, where she brings to light, The 12 Principles of Highly Successful Real Estate Agents. A rich resume built with a tireless commitment to her clients, undeniable proven past success and an uncompromised vision for the future create the recipe for outstanding leadership and growth.
Carin is a wife and mother of four, who is on the endless pursuit of giving back and helping others. A commitment to professionalism and an unstoppable and dependable force from her family all ensure success for Carin, her team and most importantly, her clients.
Carin understands the potential emotional stress and sometimes life altering experiences felt by clients during the real estate transaction process. Carin is unyielding in insisting on complete professionalism from herself and her team while understanding that real estate is a personal business. She thrives on managing the details and individuality of each transaction and client.  Her clients know that having Carin on their side means they have an advocate who cares about them and their needs. Carin is convinced that building relationships will ensure continued satisfaction and be reflected in future success.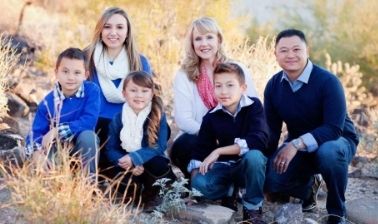 There is no denying what provides Carin with her constant strength. Her family is "at the heart of my motivation to push myself to achieve my goals and to be forthright in all that I do. My husband, Son, is my biggest source of support, my coach and my best friend. I am truly blessed with a loving husband and four great children who collectively strengthen my resolve to be the best at all my endeavors. I can be a wife and mother and still be a successful Realtor because I tackle everything with all that I have. My motto is 'Working Hard To Get Homes Sold' for a reason. I am thrilled that so many families have made me their real estate consultant."
A commitment to professionalism, an empathetic and understanding approach to her clients and an unstoppable and dependable force from her family all ensures success for Carin and most importantly, her clients.